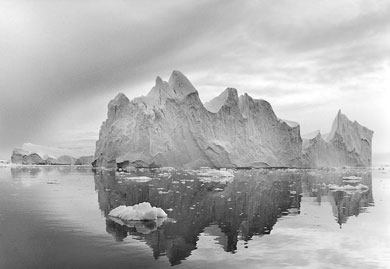 FROM THE FREEZING CLIMES OF ANTARCTICA and Greenland to the heat and humidity of the Amazon, Chuck Davis has worked as a specialist in marine and underwater photography and cinematography. His motion picture filming credits include work on several IMAX films, including Ring of Fire (underwater lava scenes), Whales, The Greatest Places, Amazing Journeys, Search for the Great Sharks, and two Academy Award-nominated IMAX films, Alaska: Spirit of the Wild and The Living Sea (underwater/marine scenes of Monterey Bay). Davis's cinematography experience has also included numerous expeditions worldwide with the Cousteau filming teams working with the late Jacques-Yves Cousteau and his son Jean-Michel during production of the Rediscovery of the World TV series. He has also worked on feature films such as Warner Brothers' SPHERE and documentary projects for the Discovery/Learning Channel, BBC, PBS, CBS, ABC, A&E, NBC/Universal and National Geographic Channel. Recent cinematography projects include work as the director of photography for Jean-Michel Cousteau's "Ocean Adventures" PBS TV series, the Smithsonian's Who We Are (a special dome-theater film for the National Museum for the American Indian, in Washington, D.C.), and the avant-garde production, Crystal Palace, filmed in Papua New Guinea for director, Mathias Poledna.

A WIDELY PUBLISHED STILL PHOTOGRAPHER, Chuck's images have appeared nationally and internationally in magazines such as B+W, ORION, LIFE, National Geographic, Audubon, Nature's Best, Defenders, National Wildlife, Outside, Scientific American, Terre Sauvage, BBC Wildlife, Italy's FOCUS/Extra, Ocean Realm and numerous Cousteau publications. His fine art black and white and color work has been represented in special exhibitions by the Ansel Adams Gallery, the Christopher Bell Collection Gallery, the OCEANS Gallery in Los Angeles and in multi-photographer exhibits at the National Geographic Society/Explorer's Hall in Washington, D.C., Nikon House/New York, The Center for Photographic Art, Brooks Institute and the San Francisco International Airport. Davis's work is included in numerous private and corporate collections; he is also the author/photographer of California Reefs/Chronicle Books.

Davis earned degrees in fisheries biology from the University of Massachusetts/Amherst and in filmmaking from the Brooks Institute of Photography. The main thrust in Davis' personal work is helping to stimulate marine environmental awareness and conservation via the use of marine and underwater imagery.